Overview
Overview
Winslow Capital Management, LLC ("Winslow Capital") seeks to consistently outperform the Russell 1000® Growth Index over time on a risk-adjusted basis by investing in U.S. large cap growth equities. The portfolio is carefully constructed to differ from its benchmark in order to help maximize opportunity for excess returns over the long term.
No preferred habitat
The team looks to diversify holdings across three distinct, yet complementary, types of earnings growth to participate in different market cycles. 
Differentiated risk process
Winslow's "No Preferred Habitat" approach seeks broad diversification and may help manage risk by not being overexposed to any one area of the market. 
Highly specialized growth equity manager
Winslow specializes in growth equity investing. Winslow's Large Cap Growth portfolio managers have over 100 years of collective investment experience.
Philosophy
Philosophy
Winslow Capital employs a diversified and differentiated approach to U.S. large cap growth investing as they seek long-term growth of capital. While their goal is to maintain balance between companies with the three types of earnings growth, they will lean toward a category when our company models point to key inflection points.
No Preferred Habitat: A Differentiated Approach to U.S. Large Cap Growth Investing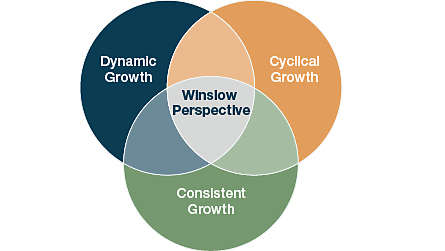 Typically, 25-40% in each growth type:

Consistent Growth—Companies with EPS growth greater than the market and demonstrated a cyclicality
Dynamic Growth—Companies in dynamic positions with superior competitive advantages generating revenue growth at/or above its 10%.
Cyclical Growth—Companies exposed to product, industry, regulatory or economic cyclicality with prospects for superior earnings growth in the forward 24 months.

 
Process
Process
Grounded in fundamental investing, Winslow Capital adheres to a disciplined investment approach which employs a rigorous, proven methodology rooted in robust primary research. Bottom-up, fundamental research targets companies anticipated to deliver attractive future annual growth and high or rising return on invested capital. Sector-specialized portfolio analysts are positioned closely to sources of fundamental information to execute proprietary research and help construct the portfolio. A fundamental sell discipline seeks to control risk and help protect capital.
Team
Team
A highly specialized growth equity manager.
A premier growth equity investment firm grounded in fundamental investing offering an active U.S. Large Cap Growth strategy.