Overview
Overview
Municipal bonds managed by MacKay Municipal Managers™ are suitable for income-oriented investors seeking to achieve attractive after-tax total returns for tax-sensitive accounts and attractive total returns for tax-exempt accounts.
Portfolios are managed by a team of portfolio managers and analysts with an average of more than 20 years of investment experience. The team's tenure, skills, and proficiency allow its members to focus on exploiting market inefficiencies in order to build a yield advantage and seek to achieve attractive after-tax total returns through fundamental, in-depth credit research.
Our proven experience in municipal securities markets includes investing in investment-grade, high-yield and taxable municipals, as well as tender option bonds, municipal inflation-protected bonds, floating rate notes, and variable-rate demand obligations. Our longstanding relationships and access to a deep network of influential market participants help us identify attractive opportunities in municipal bond markets.

Relative value strategy
The team relies on credit analysis, yield curve positioning, and sector rotation to uncover the most compelling opportunities within the municipal marketplace.

Focus on risk management
The team emphasizes risk management and does not employ leverage or make interest rate bets.
Tenured team
The co-heads have worked together for over 20 years and leverage their long-term relationships with municipal dealers to help drive success.
Philosophy
Philosophy
We are a fundamental, relative-value bond manager that applies both a top-down overlay and bottom-up credit research in the construction of U.S. tax-exempt and taxable municipal portfolios.

Our investment philosophy centers on our belief that strong long-term performance may be achieved with a relative-value, research-driven approach:
Portfolios are actively managed in an effort to capitalize on market inefficiencies, consistently build a yield advantage, and seek to achieve attractive after-tax total returns for tax-sensitive accounts and attractive total returns for tax-exempt accounts.

Risk controls are embedded throughout the entire investment process to help reduce volatility.

Disciplined, bottom-up credit research by our veteran investment professionals helps to identify mispriced securities.
Process
Process
We seek to capitalize on opportunities in municipal markets created by the mispricing of securities or misunderstood information by using a consistent investment process that combines a bottom-up, fundamental, research-driven approach with a top-down perspective.

We begin by outlining our macro view about the economy, interest rates, inflation, and geo-political concerns, such as pending legislation that may impact taxes and sectors of the municipal market. This view guides our decisions relating to portfolio weightings for sectors, yield curve positioning, and duration.

As part of our fundamental, bottom-up process, we then review individual securities first from a credit perspective and then from a spread, or relative-value, perspective. This review includes examining documentation such as the offering statement, financial reports, and/or capital program plans. We also analyze cash flows, determine the individual security features of the bonds, and review the demand features of the project.

When our research is complete, we then review spreads and assign weights to likely outcomes over the next 24 months. Those bonds that we believe have the best relative value are purchased for our portfolios. Because the municipal market is dynamic, not static, we continue to review our valuations regularly to determine sell targets.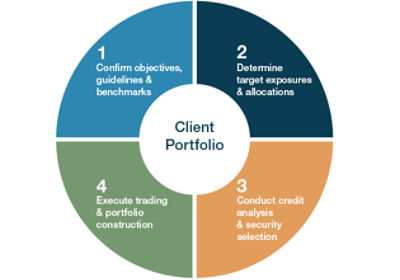 Team
Team
MacKay Shields
Boutique offering a range of fixed income strategies including investment-grade high yield, bank loans and municipals as well as fundamental and systematic equities.